Share feedback
Thanks for sharing your feedback!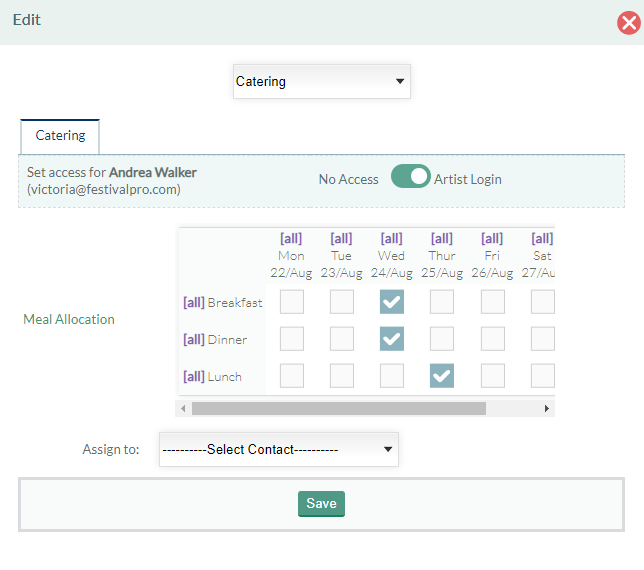 Allocating Meal Passes


You can access the panel pop up anywhere you see either the 'Schedule' button or the monitor icon next to a contact and it will bring up the panel, use the drop down to select Catering to enter the meal allocations. If the default dates and meal options need changing for your needs, you can log into config and edit this field under the Catering section of Profile Fields.
How you collect or enter meal tickets may change depending upon the persons you are allocating them to.
Allocating Artist Meals

When you allocate meal to an artist via schedule -> catering, these meals will apply to all the contacts that have been submitted via the band advance or added as subcontacts of the band. You can view the subcontacts at the bottom of the artist profile.

If you need to add additional meals, to a specific sub contact you can do this by clicking the monitor icon next to the contact link at the bottom of the artists profile.
Allocating Volunteer Crew and Contractor Meals
To allocate meals to an individual crew member or volunteer you can do this in the same fashion as the artists, simply locate the member of crew and update their meal allocations.
For contractors it is more usual to pass the responsibility of this on to the crew boss within the contractor advance. Our default advance sheet for contractors will enable the crew boss to input the meals for each individual staff member as they input their accreditation.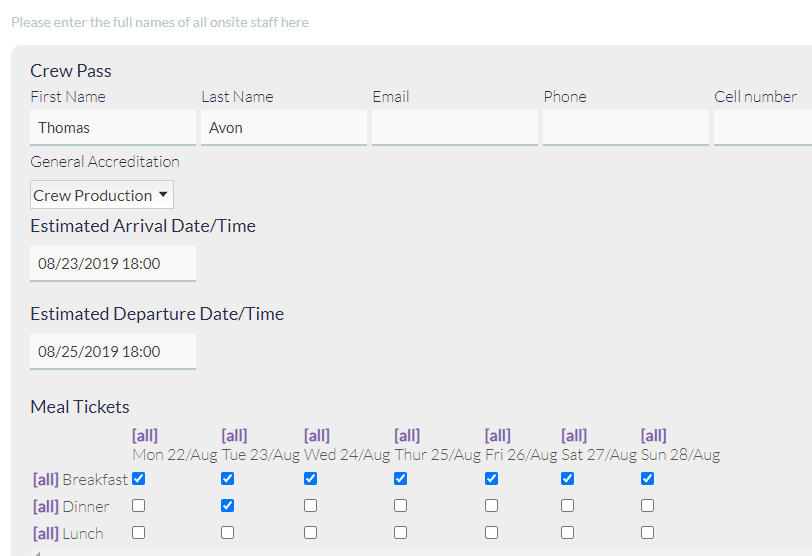 These meal tickets are assigned to that individuals profile and will be scanned off against the same QR code that they use to gain entry.
See Scanning Meal Tickets for more detail on how redemption of these meal tickets works.
---
What's Next