Copying, Moving and Grouping Fields
---
Share feedback
Thanks for sharing your feedback!
Form Bulk Actions
When editing a form you will see a bulk action or multiple field action button.


If the fields that you wish to edit are adjacent you can click this button and then drag a box around the fields you want to affect.
If the fields are not adjacent you should select them with the checkboxes before pressing the button.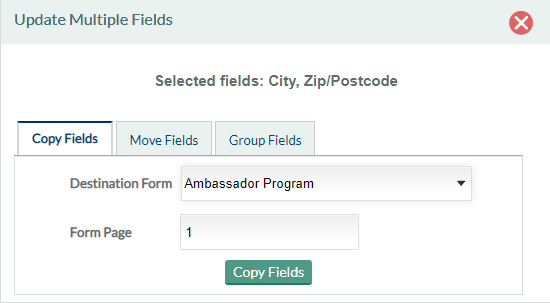 You will then be presented with a popup which will allow you to do a few different things:
Copy Fields - This will clone or copy the field to whichever form and page you wish
Move Fields - This will move the field removing it from its current location and putting it on another page or form
Group Fields - Grouped fields are designed for fields which are adjacent to each other and will allow them to become repeatable groups. The number of times the group is repeatable you can define either as a single entry, choose an exact number or have it limited by the number in a contacts profile field.
---
What's Next