Importing Contacts and Associated Profile Fields
---
Share feedback
Thanks for sharing your feedback!
Importing contacts to festival pro
Festival Pro can be used to import any contact type currently in the system, The most common type we see is Artist importing, Guest list imports and some ticketing profile imports.
First we will use the example file for artist import seen in the article Import Example Files
To begin importing we need to use the Config login. Next we go to the "Files" tab and then select "Import CSV"
Select the CSV file you would like to upload
It will then bring you to a screen like the screenshot below.
In this screen we will be allocating the different column titles to fields within the system. It is worth mentioning to make the import easier its best to make sure these fields already exist within the system so the import can correctly link to the existing fields.
Please ensure you check that the file you are importing matches the file you selected.
The contact total matches the number of rows in the CSV.
Make sure you check the "How to handle duplicates" and carefully choose an option regarding how the imported contacts may or may not interact with contacts that already exist within the system. Please keep in mind that archived contacts are still contacts in your system and will also be affected by this.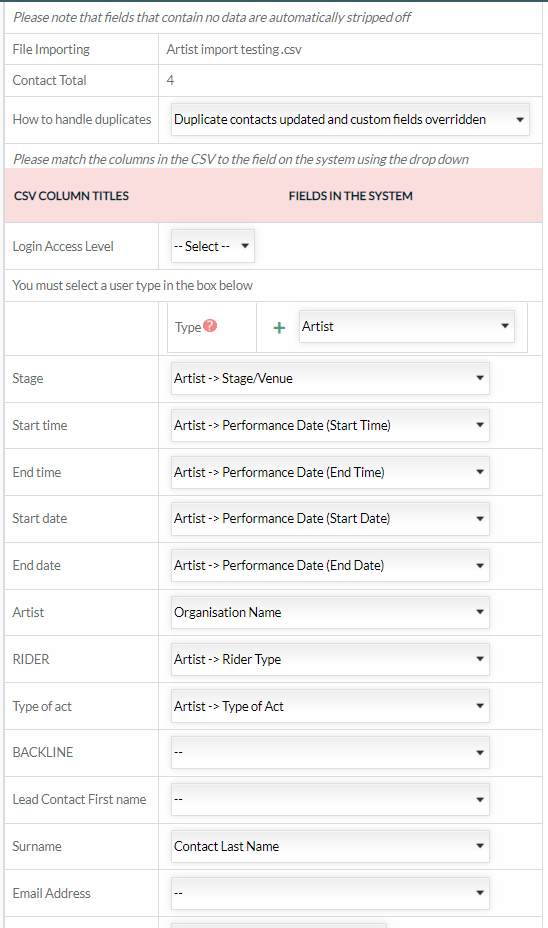 Make sure you set a type for the contact so they are easily found under the correct tab
Under these dropdowns, depending on the contact type
---
What's Next