Share feedback
Thanks for sharing your feedback!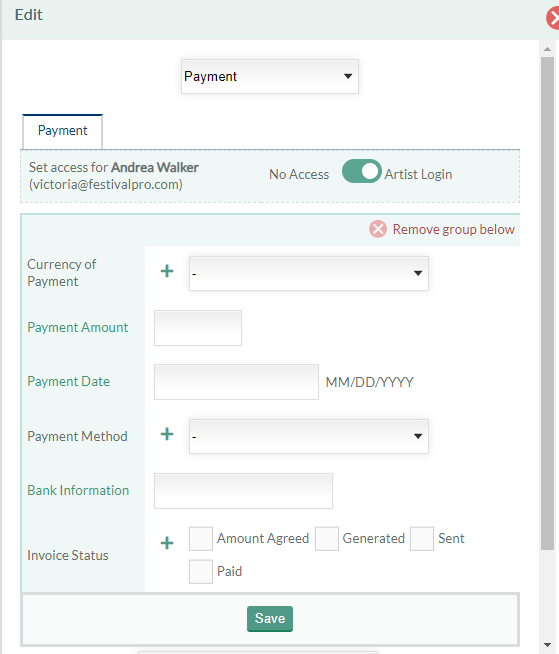 In the pop up panel you can save information against a particular company or contact. For example giving and artist or contractor accreditation, or assigning their accommodation options.
When you open up the pop up panel you will have a selection of sections in the drop down. These relate directly to the profile fields you have setup for this section. In this section we will look at the default Payment profile fields that come with festival pro, but if you have created custom fields then these will also show in the categories you set them up within.



You can access the panel pop up anywhere you see either the 'Info', 'Schedule' button or the monitor icon next to a contact and it will bring up the panel to begin editing.
Payment Panel
The payment panel is primarily designed to be somewhere you can track and log payments made to a contact. Say you have to pay deposits and then a final payment to an artist, you could use this panel to make notes and track this information. This will also allow you to mail merge any payments related information into your correspondence with this contact.
Our default fields here are quite self explanatory, but you may have specific fields you need to include depending upon your countries required information. You can add those via the config login and add to this group.
---
What's Next