Sending emails within Festival Pro
---
Share feedback
Thanks for sharing your feedback!
Festival Pro will send emails on your behalf to your system users and log all correspondence that has been sent to them. Your emails will come from whichever email address is linked to your user account. It is important to setup our SPF record on the domain you use and it's not recommended to have users that are using public web services like gmail, as the spf you setup for @yourfestival.com will not apply to them. Best to have all users using email addresses @yourfestival.com.
There are two ways to send emails, either individually or in bulk. You can mail merge any profile fields into your emails and utilise email templates to speed up the composing process.
To send an individual email to a contact all you need to do is click on their email address, this is shown on any contact record.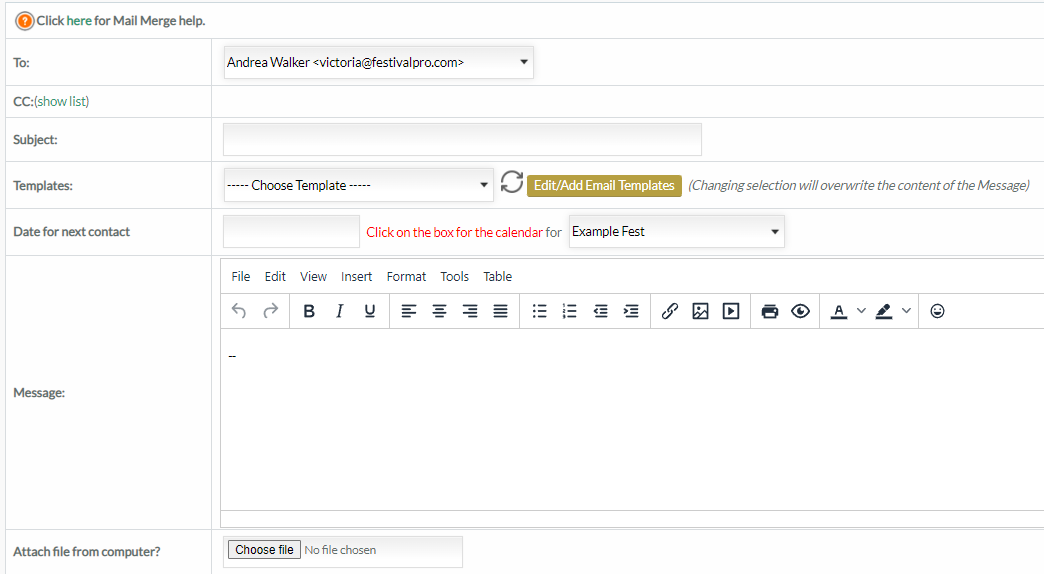 This will bring up your email panel into which you can either type a new email, or select one of your pre-filled email templates from the dropdown. You can click (show list) next to CC: to Carbon Copy or BCC individual emails to others. You can make a note if needed for the next time you wish to contact them and
attach a file from your computer. For multiple file attachments on email it is recommended that you upload your files to your Public Files folder and link to them within the email.

Any emails you send to a contact either individually or via bulk mail will be recorded and viewable in the show correspondence section on the left of a contacts profile. We attempt to track which emails have been opened but the reliability of this depends on the customers email host settings.
You can send Bulk Emails to any list of contacts. This could be a forms registration list, or perhaps a search for 'All Confirmed Artists' or All Main Stage Artists.. Perhaps you have some custom fields you need to filter by. Once you have your search results list you can head to the bottom of the page to find the Bulk Email button.

When in bulk mail view you have a few differences to the individual mail panel. On Bulk you will have the option to View / Select contacts who have been bought up in your search should you wish to exclude some people from this email.

You also have options to either send or not send to duplicate contacts and the ability to exclude people who might have completed certain forms or should their contact email addresses be in an exported bookmark you have created. For example you may have all main stage artists in your initial bulk email search, but we can exclude contacts who have completed their artist advance form.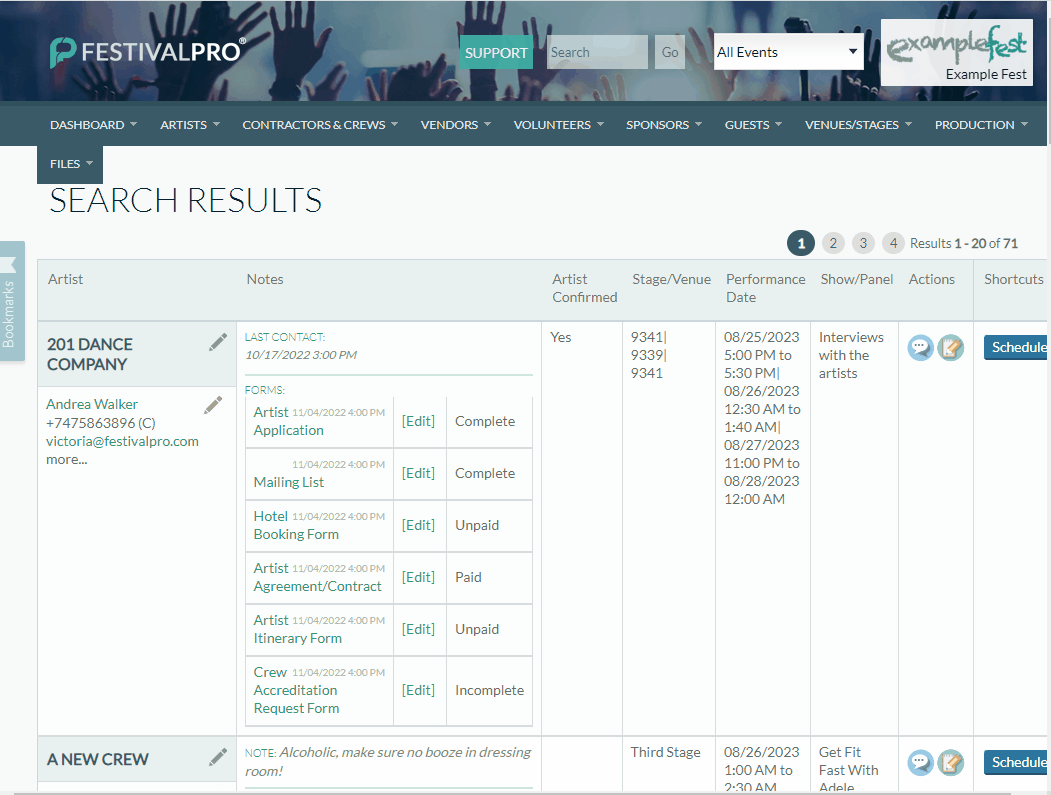 ---
What's Next