Share feedback
Thanks for sharing your feedback!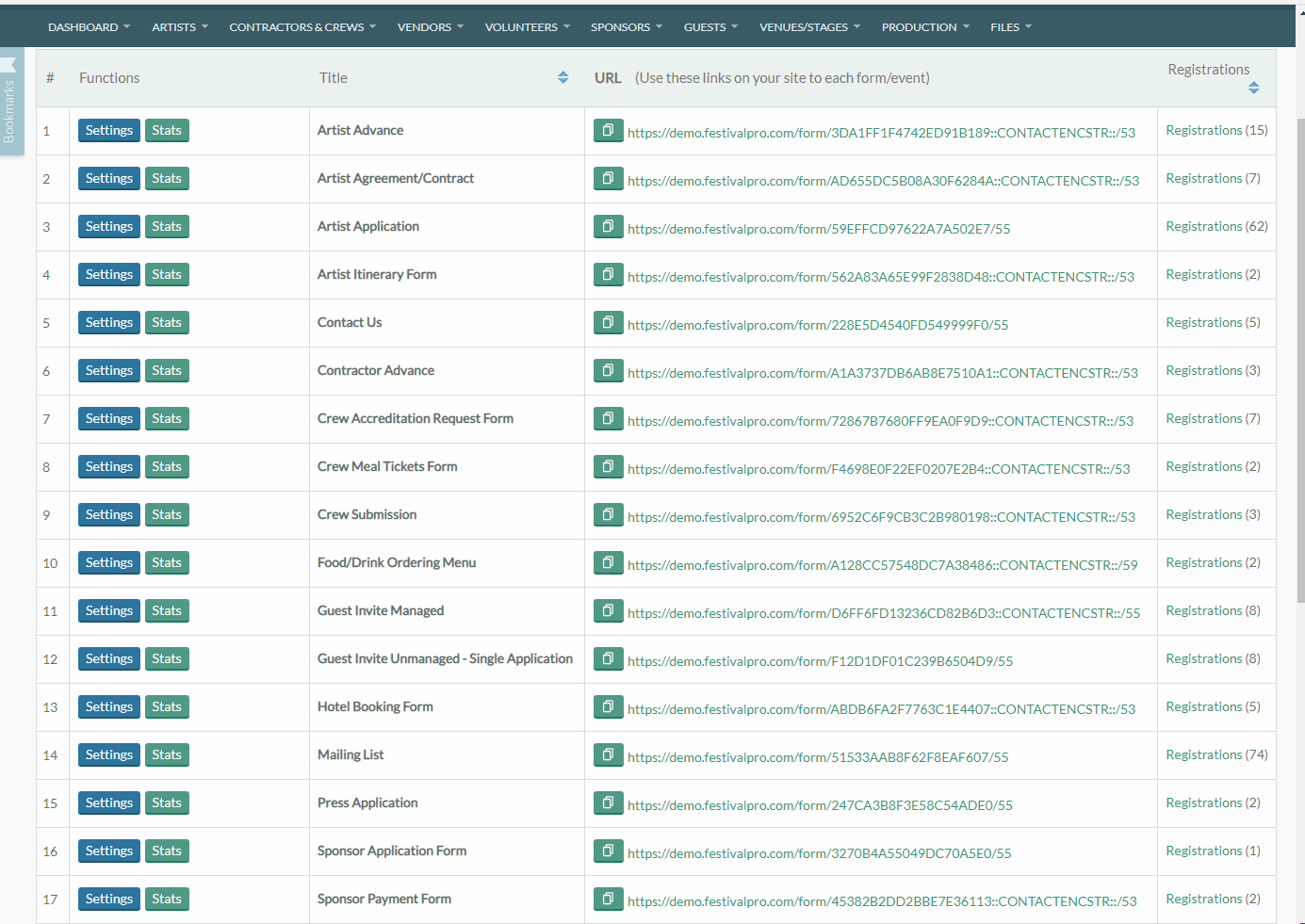 Festival Pro has a complete ticketing solutions module built in. This can be used to ticket events as standard, or sell and create tickets against any field in your system. Creating a ticket can be done in the ticketing options of any field which you add to the form.
It is recommended that you use Tiered Ticketing for most ticket options if timeslots are not required.
If you use a 'Counter' field type you will then find an additional button appears allowing you to setup timeslot and tiered tickets. This button is called 'Advanced Ticketing Options' on newer systems.

Tiered Ticketing - If start/end dates are set more than 24hrs apart this will generate Tiered tickets. By default these will jump to the next tier when the next DATE has been triggered. If a tier sells out before that, it will be marked as sold out till the next date puts the next batch on sale. You can also trigger a jump when quantity ends, even if out of date rangers. For this function you need to turn on the Autoswitcher option in your config login -> settings -> forms -> autoswitcher. You will notice the button next to this field option on your form settings now has an orange

button to identify it.
You can also choose to display current tier only, display your sold out tiers as well, display all your future tiers, or display all tiers.


Timeslot Tickets - If some of your start/end dates are set within the same 24hr period, the system will this into a timeslot selection, allowing you to set a limit on a number of people between specific times. For example setting hour intervals in one day for these workshops. Each timeslot can have different available tickets and costs put against them.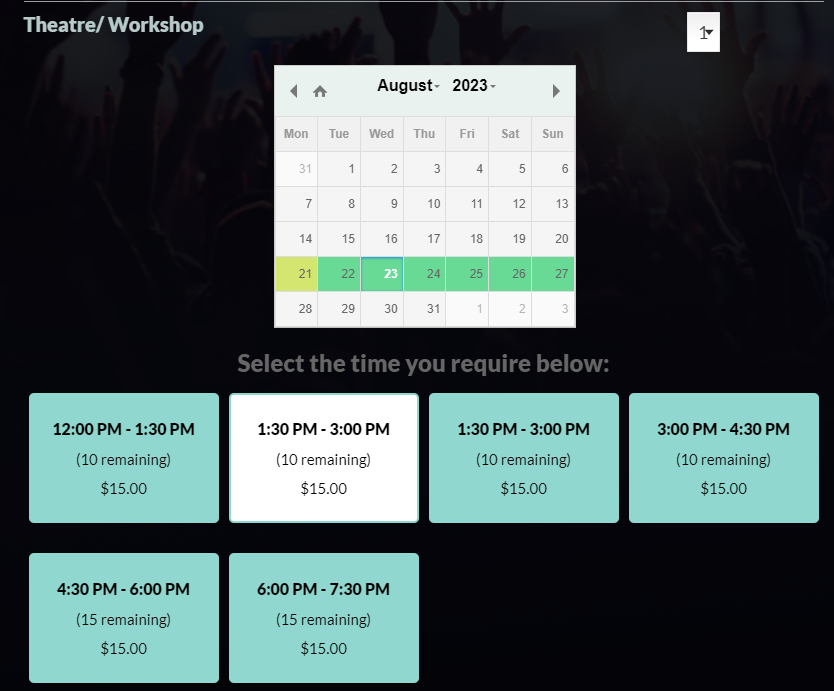 Timeslot Tickets - Book a set of tickets for a time period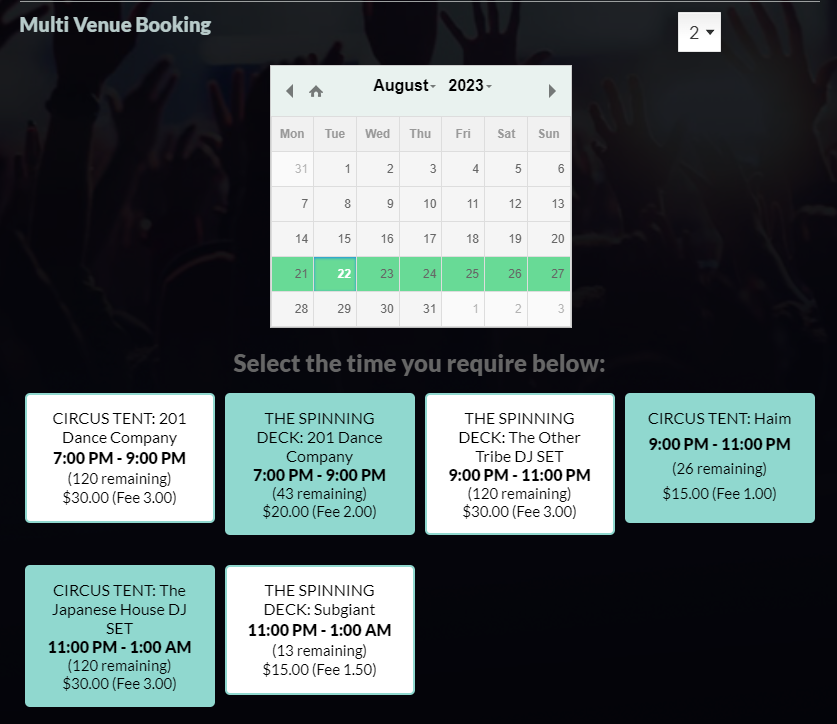 Allow selection of multiple timeslots, can be used for Multi Venue Bookings

Remove the calendar and use a dropdown list instead
Booking Multiple Events and Timeslots

Where timeslots allows somebody to choose one performance, meet and greet, workshop time etc... You may want people to be able to choose multiple timeslots. This can also be used to do calendar view bookings for shows on different nights, or tickets for multiple venues across town in one night. To enable this function you simply need to choose it in the dropdown at the bottom. You can also specify here if the user must purchase ALL the tickets in this timeslot.
If you wish to remove the calendar view and simply have these tickets on a dropdown, for things where a specific date doesn't matter, for example Glamping options choose 'Use Dropdown Box For Times'.
Deposit Tickets
You can set a deposit ticket up under the Cost Options of that field. Here you can set the amount someone has to pay in a deposit. For example if your item was 100, then you could let people pay a half deposit of 50. They would login to pay off the remaining 50. Note you cannot set a deposit up against a tiered ticket or timeslot ticket.. Only a standard field with a ticket generated against it, with costs setup in the field options.

Assets
Working along the same lines as the earlier ticketing options discussed on this page, you will also find Assets under the advanced pricing options section. An asset can be anything you have in limited supply, want people to be able to book but need to hard limit the amounts. Quite often these are used for things like Mobility Scooters and Golf Buggies. Or even Fencing and Toilets if you have a limited supply that contractors can choose from. The video below goes into finer detail on how to set these up.
---
What's Next