Share feedback
Thanks for sharing your feedback!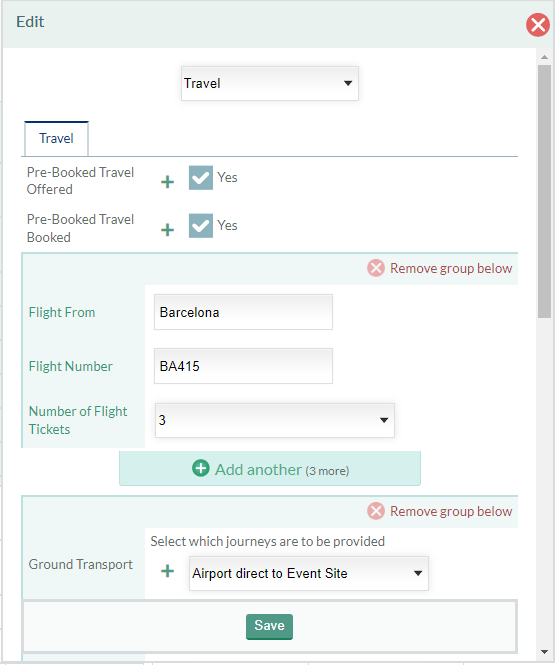 In the pop up panel you can save information against a particular company or contact. For example giving and artist or contractor accreditation, or assigning their accommodation options.
When you open up the pop up panel you will have a selection of sections in the drop down. These relate directly to the profile fields you have setup for this section. In this section we will look at the default Travel profile fields that come with festival pro, but if you have created custom fields then these will also show in the categories you set them up within.



You can access the panel pop up anywhere you see either the 'Info', 'Schedule' button or the monitor icon next to a contact and it will bring up the panel to begin editing.
Travel Panel
Pre-Booked Travel Offered - Has this contact been offered travel. You can use this as a search filter
Pre-Booked Travel Booked - Has this contact had their travel booked - If offered and not booked, then you may still need to book travel
Flight From - If booking a flight for contact insert the flight departure location
Flight Number - Input the flight number
Number of Flight Tickets - Number of tickets booked for this flight
Ground Transport - Routes for ground transport, for example Hotel to Event Site
Vehicle Type - Your vehicles, Car, Splitter, Bus.. Car Two, Car Three.. Enter in this fields any vehicles to be used to transport people
Driver - Name of the driver who will be making these journeys
Pickup Time / Duration - Pickup time and estimated duration and arrival time
Number of People - Number of people in the vehicle
Travel Costs - Overall travel costs for this contact
---
What's Next